Loeries Awards 2020:
Campaign Silver,Print Advertising
Campaign Bronze, General Design
Campaign Craft Certificate, Print Communication, Art Direction

Cars can get fixed and bones can heal, but the emotional impact that accompanies drinking and driving incidents never goes away. It's an aftertaste that will linger on your conscience for the rest of your life.

Drunk driving is sadly a reality that plagues South African roads. TOPS at SPAR wanted to start a conversation around the emotional effects left with both victims and drunk drivers. We conceptualised and created 5 unique labels that each tell a story about the effects of drunk driving.

A beer label: Eternal Mourning; a gin label: Grief; a wine label: Remorse; and a Rum: Everlasting Sorrow. Each with their own back story of tragedy and the aftertaste that never leaves.

Executive Creative Director: Alan Edgar
Creative Director: Marcelle du Plessis
Agency Art Director:Jonathan Lavender, James Howse, Craig Murie
Account Management:Robyn Buchanan
Agency Producer: Cynthia Halvey, Gina McCulloch
Brand Representative: Mark Robinson, Jess Nicholson
Designer: Alan Edgar, Jonathan Lavender, Craig Murie, James Howse, Daryn Moore, Daryn Mullet, Jason Gien, Yanela Jika, James Lait, Mike Haakestad
Illustrator: Johann Strauss, Luke Ritchie, Linda Small
3D Artist: Kunaal Hiraman
Strategist: Des Jones
Writer: Marcelle du Plessis
Director: Marcelle du Plessis
Motion Graphics: Kunaal Hiraman
Sound Engineer: Johan Prinsloo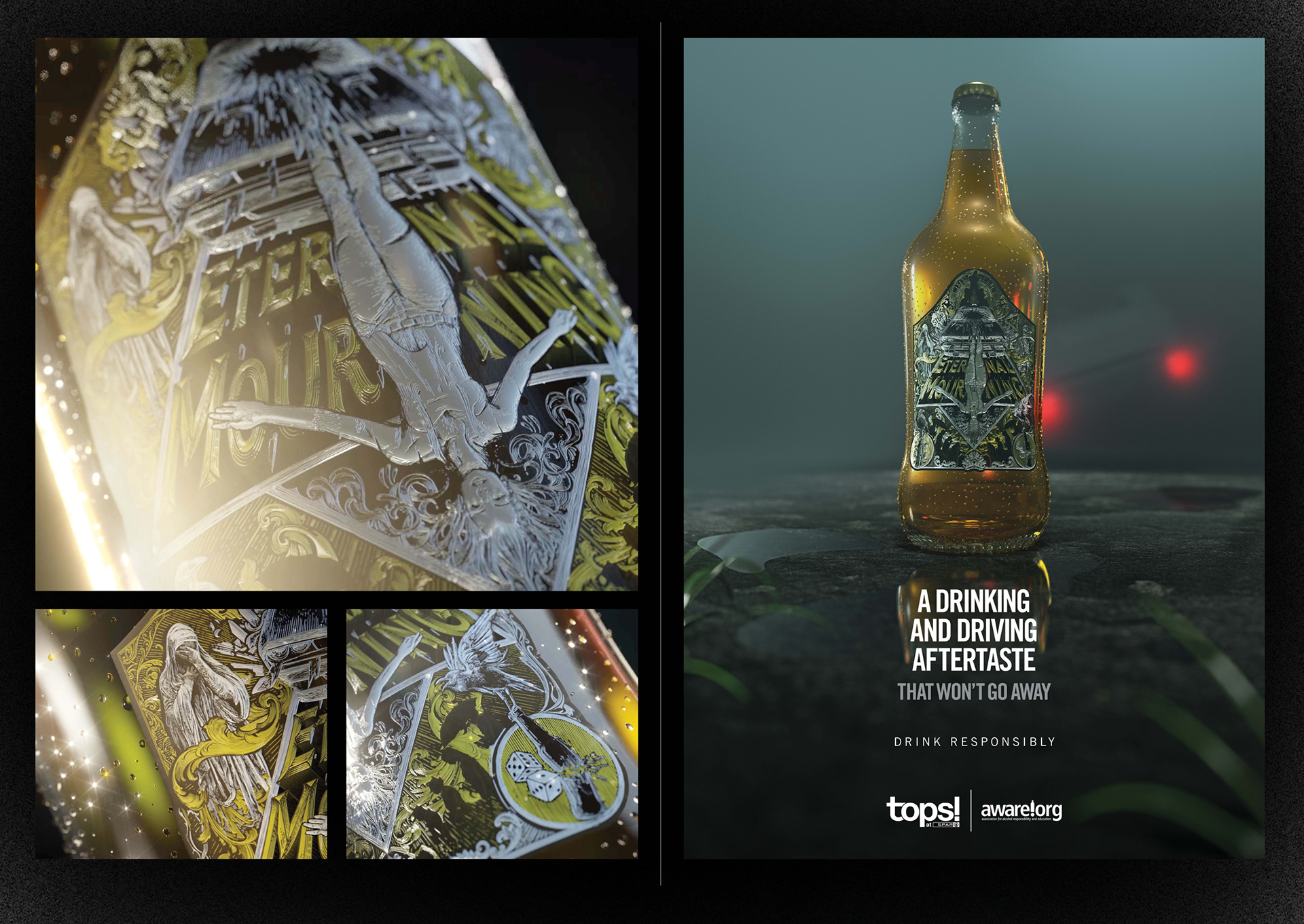 We also created an immersive full 360° digital poster where viewers could explore and experience the immediate aftermath of a drinking and driving incident. The print ads were also animated for social feeds.